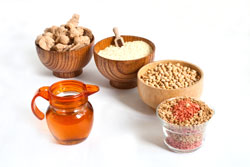 S.C. REVIVA S.R.L., based in Apahida, Cluj County, is selling a wide range of natural and dietary food products and ingredients. The company started up with an innovative character since its beginnings, a feature that is currently expressed in research and development projects in the food industry and in the area of patented-technology biofuels. Our constant concern is to offer products promoting a healthy lifestyle.
Our products can cope with a diversified demand, from an industrial level to household consumption; we are able to develop custom products to address the specific requirements of our customers.
Our research and development department focuses on a healthy diet for people and offers a range of products with high protein, fiber, and vitamin content. Vegetable proteins provide the components required for a normal development of the body and satisfy the need for essential amino acids, vitamins, and minerals.
REVIVA™ product range includes: textured soy protein, chunks and nuggets, protein mixtures and soy flours for the food industry, the catering industry, restaurants, bakeries, pastry shops, and confectionery stores; dietary products, functional and protection foods, weight control foods, protein mixtures for athletes, soybean oil, energy-protein feedstuffs, and biofuels.