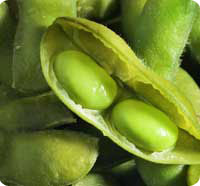 Surprisingly, their protein was regarded as a by-product to be used as animal feed. However, the lack of food during the Second World War stimulated the interest in soybeans as a source of food protein. The nutritional characteristics of soy flours and textured soy proteins are given by the protein, vitamin, and mineral salt content of the raw materials they are obtained from.
The high nutritional value of these products is primarily due to their balanced composition of essential amino acids. The behaviour of proteins from food products during processing, storage, preparation, including individual preparation in households, is related to their functional properties, namely: sensorial and kinesthetic properties (taste, odour, colour, texture); hydration capacity, dispersibility, solubility, swelling; tensioactive properties (emulsifying capacity, foaming, adsorption, lipid binding); rheological properties (gelatinization-gelling, texturization).
Typically, the native protein occurring in the food product provides the desired functionality. However, reliance on the native protein may often cause problems for the food manufacturer. Meat proteins can be inconstant, with a functionality that varies greatly from case to case. Milk proteins may have prohibitive prices for the manufacturer who tries to obtain a cheap product.
Non protein ingredients, especially chosen for functionality purposes, such as starch and glues, may adversely affect the product texture. Soy protein is often the perfect solution, providing low-cost, effective functionality control. Proteins added to food products must fulfill a range of functional properties compatible with the products they are added to or the product to be manufactured.
Their use must be preceded by a precise determination of functional properties: solubility, dispersibility, thermal stability, intrinsic organoleptic characteristics, flavour absorbing-desorbing capacity, compatibility with other food components.